THE GIFTS
God gives gifts to men. Ancient Jewish writings elaborate that a person's gift makes room for them and brings them before great people.
When vital combinations of these gifts are nurtured within a trust community, it provides ripples of opportunity and a dynamic that strengthens the community. Business is about providing a product or a service to customers. It involves outperforming competition with that product or service. What is required is developing excellence, becoming the best in what your business offers. That is where the gifts, the talents on which the business is based, come into play.
Everybody can do something better than a lot of other people. That is what we refer to as a person's natural gift. However, when that gift is unmistakably identified and developed to the level that the person can excel in that gift, more so than most other people, then they have the basis with which to start a business and commercialize the gift, the talent. This premise is at the heart of the entrepreneurial spirit that once was the pride of the American Jewish middle class.
Entrepreneurship has at its core creativity. God is the creator and being made in His image, developing our gift will tap the creativity that resides in each of us. Excelling in a natural gift triggers the release of creativity in the gift. A person's gift will be something they have mastery of, something they have a passion doing.
God's nature also is to bring increase. That is the Jewish wisdom behind Jesus' parable of the talents. In this parable there were three stewards who were entrusted with some of the assets belonging to their boss. The steward who leveraged the assets to bring the most increase not only made his boss very pleased with him, but he was given promotion and entrusted with more. However the steward who was timid and risk-adverse and only gave his boss back what he had first given him was rebuked and actually deemed worthless, even though he had not lost anything. The point is that each person is endowed with a gift and is expected to develop it. It becomes the basis of being blessed to be a blessing.
In addition to the natural gift, those who become believers are given spiritual gifts. These are the gifts reflecting how God has wired us spiritually. They reflect our deepest motivations and become the basis of the passion behind what we excel in. These motivational gifts range from teaching, exhorting, leading, giving, mercy, service and the prophetic.
Servers take on tasks wholeheartedly and stick to it until done, even when sacrifice is required. They are doers, self-starters and dependable. The prophetically-gifted operate with a balance between hearing from God and a strong sense of what is right and wrong. They are discerning and see beyond the surface of things. Givers break the mold of the status quo. They are generous and creative, quickly recognizing genuine needs which they will respond to even if it means personal sacrifice.
Teachers are analytical and committed to truth and the quest for truth. They tend to be detailed oriented, thinkers who connect the dots and do their research. Exhorters encourage and nurture others. They are purposeful and fruitful in the way they do things and the way to relate to others. Mercy-motivated people are ones who recognize and empathize deeply with unmet needs in others and work toward providing help. They tend to be protective, extending themselves with hope for the helpless. Leaders have a natural ability to influence and direct others. They have big-picture outlooks with long-term perspectives and are people of action.
Again, it is important to identify and then develop our spiritual gifts. When our spiritual gifts are developed, they become enhancers to what we can do with our natural gift. They are triggers to that release of creativity. Then when our natural and spiritual gifts are in alignment and we are interacting with the Lord in prayer, ideally making Him our Senior Partner and source of our wisdom, then we enter a threshold not unlike the destiny walked out by Abraham.
I've previously mentioned the importance of a trust society, a community of trust. Trust communities are an important factor in the Jewish phenomenon. That trust involves a responsibility, a community responsibility. Community, within the Jewish dynamic, is a safe place where the diversity of the gifts of their participants work together in serving one another, for each person and for the good of the community. It involves a dynamic. which in Hebrew is called tz'dakah, a charitable form of generosity, which is one of the keys defining the Jewish secrets. It functions in a way to engender greater success levels for its participants as the gifts of each bless one another and make room for them. I'll be talking more about this in this series.
The Process of Gift Development
One of the most dramatic illustrations of how a person's gift can make room for them, when God is made a part of the equation, is the story of a man named George Washington Carver. George Washington Carver was born as a slave in the United States in 1861. When he was four years old, the slaves were given their freedom.
When George Washington Carver was only a small boy, everyone commented that "that boy has a gift, he can make anything grow." He was good with plants. He had a passion for growing plants. He read all about plants and really paid attention in school when the subject was about plants. As he got older, a miracle happened.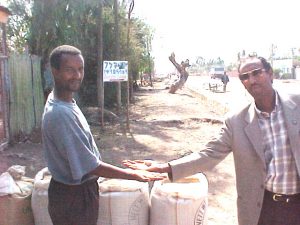 George Washington Carver graduated from high school and got a scholarship to college. He studied about his gift, the science of botany. He graduated from college and got a job in a research center, a job focused on crop growth. He became very good at what he did.
George Washington Carver was also a very committed Christian who loved to pray. When he was in his early 30s he was praying one day. He very boldly asked the Lord if God would reveal to him the secrets of the universe! I was told that upon praying this audacious prayer the Lord spoke to George Washington Carver saying: "Little man, the secrets of the universe would destroy you. But, I'll show the secret of the peanut."
Over the next ten years George Washington Carver produced roughly 325 inventions involving the peanut. He invented mechanisms for extracting the oil out of peanuts. He invented new ways of preparing peanuts and making "peanut products" that previously had not existed. In the process, he created not only a business, but set in motion a new and growing industry in the US.
God as Senior Partner
George Washington Carver walked with God and by employing his gift, his life reflected the mantle of Abraham, to be blessed to be a blessing. This humble man, who had been born as a slave, became the best there was with his gift.
But then there was an added dimension. George Washington Carver heard from God and the Lord anointed his gift, releasing both incredible creativity which in turn brought forth even more incredible increase. In this journey defining his destiny, George Washington Carver had made the Lord his Senior Partner.
This is what brought an exponential multiplication into the process. George Washington Carver's natural gift was as a botanist, one who understood the dynamics of plant growth. His primary spiritual gift was that of a teacher, one whose analytical thought is driven to find answers, to investigate and research.
But when he made God his Senior Partner, opportunity began exploding. He began having insights, tied to his gift, that he had never had before. It is written that the secret things belong to the Lord, but those that are revealed are the heritage of those who diligently seek Him. That is what happened. Thousands of jobs were produced because of the peanut industry and his country was blessed.
"A man's gift makes room for him and brings him before great men." Before he died, George Washington Carver was invited to the White House and was honored by the President of the United States for the contributions he had made to his country.
For one to make God their Senior Partner you have to hear from God and then enter the interactive flow of that partnership. Jesus taught to "Seek first the Kingdom of God and His righteousness and all these other things will be added to you." It involves becoming the best that you can with your gift, but in doing so, of keeping God at the forefront as the chief source of your guidance.
As we are faithful in the little things, God will entrust us with more as we embark on a journey of discovery of our purpose and destiny tied to the gifts with which we've been given. We'll be taking more about hearing from God and planning together with Him later in this series.
The Gifts and Destiny Discovery
In my own life, I have a natural gift as a consultant. I'm a problem solver, a planner and writer. Among my spiritual gifts are those of a teacher and the prophetic. I'm also a leader. Together with God's guidance, making Him my Senior Partner, these were the factors that began to converge to map out the pathway of my destiny as the employment of my gifts created the opportunity for my life-purpose.
As a young man, I had chosen the military as my career. It was a career with a purpose. It involved a cause and had become my calling. Yet, when I had roughly six years of service in this career, I came to faith and realized there was a higher dimension to my calling, to my destiny. It involved serving the One Who created it all. My priorities became refocused on reaching for this higher dimension of my destiny. A year and half later, I had resigned from the Marines, enrolling at Oral Roberts University to prepare for this new purpose for my life.
As I approached the conclusion of my time of preparation in academia for God's plan for my life, I was in prayer and the Lord spoke a very dramatic word to me about my future. The short version was that I was going to become a consultant and would be entering the business world. At the time, I really did not have a realistic grasp of what a consultant was. I had heard of Peter Drucker who was a renowned expert in business, but even though I knew God was leading me, I otherwise frankly was a little naive about what lay before me.
I also did not have the training in business to be a consultant. However, I had these gifts that I've mentioned, and I had this calling, which God had told me was going to be as a consultant. So as I approached the end of this time of preparation, I had completed special studies in the Bible, as well as all my coursework for a graduate degree in media management. Nevertheless, despite my military experience in leadership and planning, I had no training or experience in business. Those factors combined to make me realize that I really had better learn how to depend on God in this new arena I was entering.
Then upon completion of my graduate program, I encountered a job opportunity that seemed to fit strongly with the investigative-research orientation that had been such a key part of my graduate studies. Although I was in over my head in this new job, I took one day at a time and began learning the trade. It was several months after working in this position that I realized the function of this firm was that of consulting.
Almost three years later, having mastered the tools of this profession, the Lord gave me a very strong word about it being time to start my own business. Here again, I didn't have any background on how to start or run a business, but I knew what it meant to depend on the Lord and I knew how to hear His voice. I've always been a man of action and being convinced that God was guiding me, I took steps of faith and started my own business. Despite that, my first year of business was grueling.
In leaving my former employer, it was a point of honor that I not take any of his clients with me. So, I began by borrowing money on our home to support ourselves as I began this new venture. I ordered a new phone, along with some professional business cards and stationary and purchased a good electric typewriter. This was before the days of computers and I wrote a lot of introductory letters, one by one, on an IBM Selectric typewriter. I made a lot of phone calls and God gave me a strategy of giving presentations on the state of the industry for the clients and industry I was targeting.
I sold one project during all of that first year and although my client was happy, my banker scolded me because he felt I should have priced the work at three times the amount I had charged. At the end of that first year, I had gone through all the money I could borrow and I had a big stack of bills on my desk.
Nothing seemed to be moving in terms of getting the contracts needed to pay the bills. It seemed I had done everything I had known to do and my phone was silent. I was beginning to wonder if I had missed something the Lord might have been trying to have me do. The reality was that unless God intervened, I was about to fail. But some things take time and in business timing more often than not is in God's hands.
It was at that point, while in prayer one morning, that I had a very dramatic realization that I had come to a time in which my business was about to start growing. With no evidence to support this perception, it simply was something that I knew that I knew that I knew.
Some have told me that God gave me a gift of faith to accompany the steps of faith I had been taking. Then in that next week, from the many presentations I had made over the last several months, I received requests to write proposals for six contracts. Three of them were approved and started almost immediately. The challenge from that point was in keeping up with the growth.
We grew to have offices in three US cities and 27 full-time employees. Most of our clients were multinational firms, with a number of them being internationally based.
Our competitors were some of the most prestigious names in the consulting industry, like Arthur D. Little and Company. In many ways, we were like a young David facing some real industry Goliaths. We worked to give our clients the very best value for their money. We were good at what we did. Our clients came back for more.
The business we built revolved around my combined natural and spiritual gifts which I trained and mentored my employees in doing. My spiritual gifts of teaching, the prophetic and leadership, all combined to undergird the authoritative, research-based market planning and forecasting consulting work we did for our clients.
There is another phase to my career, that has as its focus the entrepreneurial startup program that I now take around the world. It had a very inauspicious start after serving as a consultant to major corporations for 30 years. Yet, since its start, we've conducted our seminars and advised purposeful community builders in almost two dozen nations on the ways Jews have excelled in business over the centuries. The same natural and spiritual gifts with God at the helm have been in operation with this program.
The Context and Foundations
So far in this series on Jewish business secrets we've touched on the foundations, the model and the gifts. I've noted that the pertinent ancient foundations included the identity Jews retain as a culture. This identity impacts the uniqueness of community as it has endured and prospered, many times against much adversity, over the millennia. The self-sufficiency operating within Jewish communities embraces high standards and imparts the basis for future generations to advance.
In the Jewish community, what we have just taken a brief look at, the importance of nurturing and developing the gifts, is passed on from one generation to another. Along with high moral standards and making God the Senior Partner, these foundations have resulted in creating a society of leaders, although the form of leadership does not conform to the way most within the world view leadership. Leadership involves power, but within the world we live in, there is righteous power and there is corrupt power. The Jewish means of employing power, which was elaborated on by Jesus, has its focus on good overcoming evil.
As we consider these factors, we have touched the heart of Jewish culture. I have shared about Ghandi's response of loving the teachings of Jesus, but rejecting Christianity because he never met a Christian that he felt truly practiced these teachings. Ghandi's response was due to the culture of the Christians he had met. Jewish culture foundationally is Eastern, whereas the overriding culture of the Christians Ghandi had met was overridden with negative and Western trappings.
One of the key strategies employed by Jews and reinforced by the teachings of Jesus was that of being a culture within a culture. Jesus' central message was about the Kingdom of God. He imparted the wisdom needed for His followers to bridge the natural and the spiritual domains of reality. This is a very Jewish premise and at the heart of Jewish culture. Jesus elaborated on it when He said that we would be in the world, but not of the world.
So, to embrace the dynamics comprising Jewish business secrets is going to involve a different way of thinking, a more creative way of thinking that results from Jewish cultural foundations. The edge we observe in Jewish business exploits is a compatibility between their cultural and entrepreneurial foundations. In our next session I want to talk about the culture of the Jews. I've made the point of how important the Jewish approach to community is, but unless you first understand the culture, you're not going to fully grasp the Jewish community dynamic, which itself is very key to the Jewish business phenomenon.
___________________________________________________
Morris Ruddick has been a forerunner and spokesman for the higher dimensions of business leadership since the mid-90s. As founder of Global Initiatives Foundation and designer of the God's Economy Entrepreneurial Equippers Program, Mr. Ruddick imparts hope and equips economic community builders to be blessed to be a blessing where God's light is dim in diverse regions around the globe.
He is author of "The Joseph-Daniel Calling;" "Gods Economy, Israel and the Nations;" "The Heart of a King;" "Something More;" "Righteous Power in a Corrupt World;" "Leadership by Anointing;" and "Mantle of Fire," which address the mobilization of business and governmental leaders with destinies to impact their communities. They are available in print and e-versions from www.Amazon.com, www.apple.com/ibooks and www.BarnesandNoble.com.
Global Initiatives Foundation (www.strategic-initiatives.org) is a tax-exempt 501 (c) 3 non-profit whose efforts are enabled by the generosity of a remnant of faithful friends and contributors whose vision aligns with God's heart to mobilize economic community builders imparting influence and the blessings of God. Checks on US banks should be made out to Global Initiatives and mailed to PO Box 370291, Denver CO 80237 or by credit card at http://strategicintercession.org/support/
Likewise, email us to schedule a seminar for your group's gathering on the Joseph-Daniel Calling or on anointing the creative in business.
2016 Copyright Morris Ruddick — sign@strategicintercession.org
Reproduction is prohibited unless permission is given by a SIGN advisor. Since early 1996, the Strategic Intercession Global Network (SIGN) has mobilized prophetic intercessors and leaders committed to targeting strategic-level issues impacting the Body on a global basis. For previous posts or more information on SIGN, check: http://www.strategicintercession.org